Commercial Asphalt Paving Contractor – Asphalt Solutions Plus
For many years Battle Creek has been taking advantage of the services of our experienced, commercial paving contractor crews. Our goal has always been to provide the highest quality in commercial asphalt paving services to clients in the area. We utilize only state-of-the-art paving equipment to ensure that you will experience professional results that you will love. To ensure that you get the exact finished product that you desire we offer a comprehensive menu of paving options so you can select the precise solutions that will address your needs and provide the best return on your investment.
Top quality commercial paving

Your #1 resource for pavement maintenance

Best in class service and attention to detail
The professional blacktop paving solutions we offer include:
Installation of new asphalt, Total reconstruction of paved areas
Parking lot paving, Removal of old pavement and repaving
Placing of asphalt overlay
Asphalt Maintenance & Parking Lot Maintenance
The parking lot is the first thing that most of your visitors or customers will notice about your establishment. Ensuring that your parking lot and other paved areas continue to look their best and give a good impression relies on a comprehensive maintenance strategy. We take great pride in our asphalt maintenance and reconditioning services, offering the best in these services since our company began. Our development of cost effective programs has made it possible for us to offer services that meet the budgetary needs and future plans of a tremendous array of customers.
Our asphalt maintenance services include:
Sealcoating

Striping

Crack sealing

Parking lot sweeping
Pavement Repair & Parking Lot Repair services
Michigan weather is not kind on parking surfaces. Whether these surfaces are blacktop or concrete, the freeze thaw cycles and heaving caused by high heat can put a lot of pressure on the surface and cause them to greatly reduce the life and appeal of the parking surface. We are proud of being one of the top private sector paving companies in Michigan and strive to offer the best in commercial pavement repair and parking lot repair services.
These services include:
Parking Lot Repair

Asphalt patching

Infrared patching

Crack repair
Asphalt Milling service
We are one of the few Battle Creek-area asphalt contractors that handle milling. Our experienced team is ready to offer top quality service to address the needs of your surface that has become extremely deteriorated. After milling up the broken down pavement, we will fix the base layer and repave the area. This is a common practice for damaged areas.
Call our office to discuss your options today!
Recent Battle Creek Posts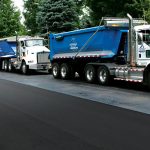 Getting your commercial parking lot sealcoated is one of the best ways to restore, preserve, and protect your asphalt pavement from weather and wear, but this cost-effective paving service needs to be performed by a professional paving contractor. In Battle Creek Michigan, the trusted paving company is Asphalt Solutions Plus. We have over two decades experience with asphalt paving services like sealcoating, so we can restore your parking lot to full function in no time.
Parking Lot Sealcoating FAQs
Here's some common questions commercial property managers and business owners have about sealcoating their parking lot.
How Does Asphalt Sealcoating Work?
While there are different formulations of pavement sealants, the basic sealcoating process involves spreading a especially mixed coating made up of asphalt binders and polymer additives over the surface of your parking lot using sprayers or squeegees.
What Are the Main Benefits of Sealcoating?
Fills minor cracks and holds crumbling pavement together.

Extends the life of your parking lot by preventing sun damage and physical wear.

Gives a nice, smooth black surface look.

Provides a perfect surface for painting parking stall lines and other pavement markings.
How Often Should I Sealcoat My Parking Lot?
First, you should apply a coating within a year of asphalt installation. For high traffic parking lots, once every two years is best, but sealcoating can be applied once every five years for lower traffic areas.
What Should I Do Before Getting a Parking Lot Sealcoat Applied?
Nothing! Your paving contractor should take care of everything. That said, they will most likely perform a thorough pavement inspection, clean the pavement, fill small cracks, and then apply a sealcoat.
Asphalt Solutions Plus: Your Parking Lot Sealcoating Experts
If you want to bring new life to your commercial parking lot in the Battle Creek MI area, you need professional asphalt sealcoating. Contact one of the pavement experts at Asphalt Solutions Plus right away to find out what we can do for your pavement.
Commercial property owners have a lot of assets to manage, and their pavement can easily get overlooked. This can be a mistake, though, as a beautiful and safe parking lot is a huge part of a business' curb appeal. Even in manufacturing or industrial properties, a safe parking lot keeps wear on company vehicles low and keeps employees safe.
To keep commercial pavement in good repair, you need parking lot maintenance services from a reputable paving company. Asphalt Solutions Plus, Battle Creek MI's premier asphalt paving company, has been providing these services to central Michigan property owners for over twenty years.
One of the best maintenance services for your parking lot is asphalt sealcoating, where your trusted local paving company spreads a thin coat of asphalt binder over the surface. Property owners are rightfully concerned about costs, so here's a breakdown of costs for this paving service.
Cost of Parking Lot Sealcoating in Battle Creek MI
There are different factors that contribute to asphalt sealcoating costs, including:

Size of your parking lot, since most paving jobs are calculated per square foot

Complexity of design, such as islands in the lot, which can affect labor costs

Maintenance services like crack sealing that might need to be performed first

Other services like line striping that need to be performed after
In general, the square foot cost for sealcoating in Michigan is between $1.25 and $1.50 per square foot for both labor and materials.
Asphalt Solutions Plus: Your Local Parking Lot Sealcoating Experts
In Battle Creek MI, Asphalt Solutions Plus is the leading paving company for pavement maintenance services like sealcoating. With our experience with paving, we can help you restore your asphalt parking lot. Contact us today for a pavement inspection.